STENCILART EXPOSURE February 1-28, 2005 in Anglet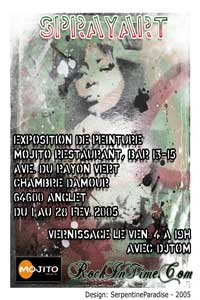 EXPOSURE. the Basque artist Ekin presents until the end of the month ten works on wood and paper designed at the stencil key set and the aerosol
The art of the spray
The artist Ekin presents ten of his pieces until the end of the month.
Graduating in 1992 from the Fine-Arts school in Limoges, a town reknowned for its ceramic and porcelain, Ekin is an old school graffiti artist. A suficiently long road which led Ekin to the heart of the founding of the hip-Hop movement, into Afrika Bambaataa's Zulu nation, and into the american pop art scene. Inspired and fed by these multiple influences, Ekin is a hybrid specimen of what we could call 'hip-pop'.
He continues to practice the pacifist thesis and resuscitates the well known slogan; 'peace, love, unity', and other fundamental mottos in the 'knowledge is power' genre, which he transports onto the walls of the community. "We have alot of legal walls to paint on, like the old factory ''Baby Relax" says Ekin.
He has taken up the litteral sense of an art that is an influential one of our times and society. Warhol, is at the same time an revelation to Ekin and a source of great influence. Ekin tells us "All these movements have brought an alternative and broken down the labels that are given by society. For example, people must know that there is more to hip-hop than the image of gangs, guns and trouble that is so often associated with commerical rap. Warhol's portrais, and works have brought new life, colour and freshness to art."
Fresk. Ekin will be presenting in this exposition at the Mojito Restaurant, ten works of art, the fruits of a technique deriver from spray art. Its a technique that uses spray paint in aerosol cans. "I think im a rare artist around here to develop this method that i learned single handedly on the street." Ekin cuts his stencils out of cardboard which he then applies to the chosen support. "I have at least forty pieces, which allows me to work quickly and productively when people order my services, i can paint on any type of surface". As far as his up coming projects go, Ekin is preparing a fresk on the 'boulevard du BAB' which another half a dozen artists will participate in.
Kitchen. Ekin defines himself as a 'free artist', and we would have trouble imagining him as anything else. He works alone to win contracts and to project his work to the general public. Three years ago Ekin founded the association Rockintime, which he manages astutely. "Rockintime is a platform, for evolving artists in the plastic arts and music genres, in particular, rock and reggae." Through Rockintime he is attempting to build bridges of communication between genres. "We would love to be helped, to be given work, concerts for groups, and to permit everyone the chance to show people what they can do. Getting on stage or conducting an exposition, its a great pleasure!!" As far as demands go, the association asks for financial support, to be able to help them to continue their creation."My kitchen is my studio, which isnt exactly the best place in the world for reflexion.."
But in a way Ekin's just poking fun, because at the end of the day its evident that his thing is definately the street.
Spray Art, Ekin Paintings. From the 1st through 28th of Febuary at Anglet. Party is friday the 4th starting at 7pm with music from DJ.